ACGCC
The American Cultures and Global Contexts Center builds upon the considerable strengths in American Studies at UCSB by offering an interdisciplinary setting for new research and teaching initiatives. Drawing on various strengths of its own, as well as interdisciplinary connections to the departments of Black Studies, Feminist Studies, and Global Studies (to name a few), it seeks to broaden the cultural study of the United States by situating it in a transnational context. The Center is thus attentive to an expansive understanding of culture and forms of cultural production beyond the category of literature traditionally conceived.
The goal of the ACGCC's 2012-13 program, Antiracism Inc., was to rethink the meaning of antiracism in light of contemporary shifts in global political discourses on race and racism. The center hosted a number of events in this series, including a reading series; a film series; a mini-conference co-organized with the Hemispheric South/s Research Initiative; and a daylong poetry workshop that brought together community members, undergraduates, graduate students, interested faculty, and New York and Bay area-based Hip Hop and Spoken Word artists. Watch a video documenting the event here.
Visit the ACGCC site: http://acc.english.ucsb.edu.
COMMA
The research goal of COMMA, as a center for modernist and postmodern Anglophone literature at UC Santa Barbara, is to recast the reading of that literature, and the cultures that produced it, by staging its encounter with a radical new wave of materialist critique. At COMMA, our literary field of vision extends from Woolf to Irvine Welsh, from Joyce to Chimamanda Adichie. We foster theoretical, historicist and formal investigations of this literary culture in the critical theory tradition.
Visit COMMA's website: http://comma.english.ucsb.edu/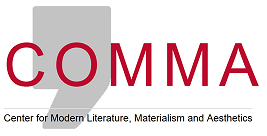 EMC
The Early Modern Center (EMC) at UCSB mobilizes the English department's strength in sixteenth- through eighteenth-century studies, which is maintained by seven faculty members in the field. The EMC creates graduate and undergraduate courses around innovative themes; organizes colloquia and conferences; supervises the department's undergraduate specialization in Early Modern Studies; and offers a graduate student assistantship each year. Finally, the EMC is in the process of creating an online publishing platform, the EMC Imprint, to offer an innovative open access venue for scholarly work.
Visit the EMC's website: http://emc.english.ucsb.edu/.
Hemispheric Souths
The Hemispheric South/s Research Initiative supports an interdisciplinary intellectual community of scholars and students invested in thinking critically about race, ethnicity, nation, culture, and power. It concerns itself with questions of how the South participates in global networks of culture and economy; what new theories or methodologies are needed to think of southern sites as affected by and contributing to globalization; and how global and transnational processes reflected and produced in literature, literary histories and cultural practice could be said to constitute a global South.
Learn more about Hemispheric Souths: http://hemsouths.english.ucsb.edu/

Literature and the Environment
UC Santa Barbara's English Department is a national leader in the study of Literature and the Environment. With a total of twelve faculty members offering over two dozen courses, we have seamless, strong coverage in ecocritical coursework from the early Renaissance through the 21st century. Moreover, we explore environmental issues from British, American, and Global perspectives, using a range of methodological approaches, with such emphases as non-human/human relations, environmental and social justice within a global rather than national context, and the political impact of institutions, networks, and regimes on bodies and the biosphere.
Visit Literature and the Environment's website: http://environment.english.ucsb.edu/.
Literature and the Mind
Literature has always honored the power of the imagination in shaping our experience of the world. Current developments in psychoanalysis, psychology, philosophy, cognitive science and neurobiology confirm the profound importance of language in structuring the mind's representations and re-workings of reality. Study of the mind is now one of our most exciting and inventive fields of interdisciplinary research, informed by and informing not only literary criticism and theory but also the study of cultural and social practice. The Literature and the Mind center explores how and why symbolic activity helps us create, rather than suffer from, reality.
Visit Literature and the Mind's website: http://mind.english.ucsb.edu/.
Medieval Literatures
The Medieval Literatures research center and undergraduate specialization in the English Department at UCSB is both a rich part of UCSB's interdisciplinary Medieval Studies program as well a program and center in its own right. The center is focused both on providing space and support for grad students working on various topics, from late medieval parliamentary discourse to birds in Anglo-Saxon poetry. We also offer exciting events to bring undergraduate students under the magical sway of medieval studies and work in concert with other organizations on campus to support events like the annual Medieval Graduate Student Conference.
Visit Medieval Literature's website: http://medieval.english.ucsb.edu/.
Transcriptions Center
Transcriptions, begun in 1998, focuses on work in digital humanities and new media. Our overall goal is to build a working paradigm of a humanities department of the future that takes the information revolution to its heart as something to be seriously learned from, wrestled with, and otherwise placed in engagement with the lore of past and with other societies.
Visit the Transcriptions Center's website: http://transcriptions.english.ucsb.edu/.
Las Maestras Center
The vision of Las Maestras Center (LMC) is generated from the painterly and performative impulse of our first (Meso)American literatures and informed by a contemporary indigenous-identified feminist Xicana[x] perspective. Our multi-disciplinary programming blends visual, performance and literary arts to inform an aesthetic and a directed intention within the creative process; returning artists to their home cultures and contemporary communities of common cause.  
Las Maestras Center endeavors to cultivate writer-artists with a public voice emphasizing process on the road to product; exploring 'off-book' sites of learning (as well as written literatures); encouraging embodied art practice; considering the role of geography and land as the holders of ancestral and historical memory; engaging intergenerational exchange with elder (off-campus) teachers and spiritual practitioners;  exploring ways in which knowledge is transmitted orally through story-telling and ceremonial engagement; honoring intuitive and implicate knowledges; considering the location of queer (two-spirit) and female sites of consciencia; and, recognizing traditional ritual structures within the natural environments as avenues toward knowledge and the health of our pueblos and planet.
Our task, as we see it, is to help Latinx communities, and all those who pass through our door, come to remember and acknowledge their origins through the act of art making and critical collective thought; and to do so in concert with the native peoples of this region, the Chumash, as well as the greater area of California peoples.  In our many decades of teaching and art practice, we have witnessed over and over again, that through public pedagogy, young people become empowered to create a literature, a theater, a visual rendering and a daily social practice that counters the impoverishment and cultural amnesia of globalization.  It's the most and best that we, as maestras and artists, have to give.
Visit Las Maestras Center's website:  https://www.lasmaestrascenter.ucsb.edu/