Skip to main content
In Memoriam – Glyn Salton-Cox
The English Department is devastated to announce the death over the New Year of our colleague Glyn Salton-Cox.  To his family, loved ones, and friends here, in his native Britain, and throughout the world, we offer our deepest and most heartfelt condolences.  Glyn was a brilliant scholar, a very popular teacher, and the kindest of colleagues.
The Department of English invites you to a commemoration of our colleague Glyn Salton-Cox on Friday, March 3d, 2023.
We will gather in the Faculty Club's Betty Elings Wells Pavilion at 3:00 pm and then move to the Terrace at 4:00 pm for a reception. Please let us know of any accessibility requests.
2023.02
Studies in Literary Criticism and Theory:
Intro to Game Studies
Course Number:

ENGL 236

Prerequisites:

Graduate standing.

Catalog Course Entry:

ENGL 236

Quarter:

Winter 2015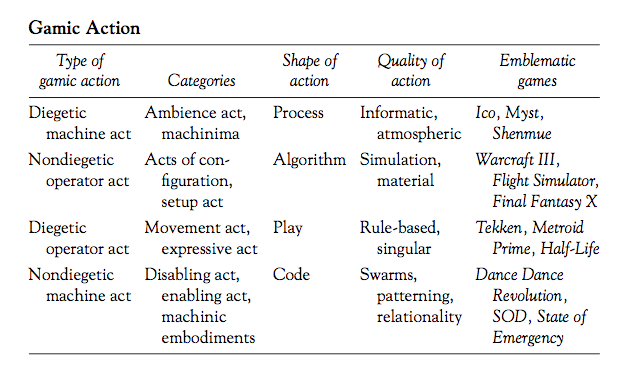 This course presents an introduction to game studies, considering theories of games and play in general and focusing on computer games and video games in particular. How does one approach a game for the purpose of analysis, interpretation, or critique? With what techniques (theoretical and practical) does one deal with a game–or other piece of interactive media–as a research object?
Critical readings outline theories of games from historical, critical, and design perspectives–from Marshall McLuhan's "Games: the extensions of man" to Koster's A Theory of Fun for Game Design. In addition to overviews and framing the field, topics in the course include: design theories; classifications and typologies of games; cultural critique of games and power (capital, empire); values, persuasive and serious games; and platform studies approaches. Readings are drawn from a variety of authors including Aarseth, Bogost, Bolter and Grusin, Caillois, Crawford, Flanagan and Nissenbaum, Frasca, Galloway, Juul, Koster, McLuhan, Montfort, and Perron and Wolf, among others.
A particular interest of the course is the relationship of games to narrative and genre;
one unit of the course will consider games through the specific lens of myth, fantasy, and medievalism.
Schedule of Topics
1. Studying Games
2. Framing Game Studies
3. Theories of Games
4. Design
5. Game Genre–Classifications and Typologies
6. Game Genre–Myth Fantasy and Medievalism
7. Cultural Critique
8. Seriousness, Persuasiveness, Values
9. Platforms
Short engagements with playable media from a variety of game genres may be used to compliment readings. While the course may address topics in massively multiplayer games, esports, war games, sims, and virtual worlds, assigned playings will generally be drawn from concise single player experiences such as 'indie' games, art games, casual games, and interactive narratives. Playings will cross-platform accessible PC games (sometimes also available on mobile or console) which are either free to play online or available at low cost via a digital distribution platform such as Steam, GOG, or Humble Store etc. Many games can be made available on a lab computer for participants with access issues.
Participants in the course will:
*  become acquainted with major presses, journals, readers and anthologies in game studies
*  play and observe a variety of games in different genres
*  develop critical play methods for the analysis and critique of individual games
*  learn the landscape of major game platforms (consoles, PC, mobile) and features of the current game access landscape (crowdfunding, digital distribution platforms, bundles) and its unique challenges for research
*  learn digital humanities research methods for working with games as research objects — including techniques for documentation, archiving, citation, and code and platform studies.
*  develop a critical argument about a game
This is not a game design course, however interested participants will have the opportunity to create a simple game if they choose.
Schedule & Location
Details Not Available