Skip to main content
In Memoriam – Glyn Salton-Cox
The English Department is devastated to announce the death over the New Year of our colleague Glyn Salton-Cox.  To his family, loved ones, and friends here, in his native Britain, and throughout the world, we offer our deepest and most heartfelt condolences.  Glyn was a brilliant scholar, a very popular teacher, and the kindest of colleagues.
The Department of English invites you to a commemoration of our colleague Glyn Salton-Cox on Friday, March 3d, 2023.
We will gather in the Faculty Club's Betty Elings Wells Pavilion at 3:00 pm and then move to the Terrace at 4:00 pm for a reception. Please let us know of any accessibility requests.
2023.02
Las Maestras Center for Xicana Indigenous Thought & Art Practice
Center Opening
3:30 - 6:30 pm
Reception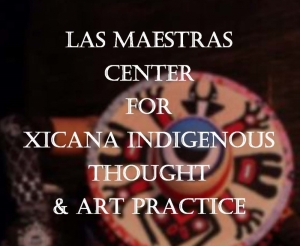 Please join us to celebrate the campus opening of Las Maestras Center. Sponsored by the Department of English and the Division of Humanities and Fine Arts.
3:30 La Puerta Abierta

Our door officially opens
Antojitos (appetizers and conversacíon)

4:00 Bienvenidos

Welcoming by Maestras Celia Herrera Rodríguez and Cherríe Moraga
Opening oracíon – Honoring los 4 elementos
Remarks from Dean John Majewski and other invited Guests

5:00 La VisiónGoals and hopes for Las Maestras Center – in conversation with campus community
5:15 Música, Postre (dessert), Mas Conversación
As UCSB is now a "Hispanic" serving Institution, we are enthusiastically responding in kind from a Xicana Indigenous perspective. Las Maestras Center's purpose, as we see it, is to help Latinxs remember their origins through the act of art making and critical collective thought. In our many decades of teaching and art practice, we have witnessed over and over again, that through public pedagogy, young people become empowered to create a literature, a theater, a visual rendering and a daily social practice that counters the societal impoverishment and cultural amnesia of globalization. It's the most and best that we, as teachers and artists, have to give.
– Cherríe Moraga and Celia Herrera Rodríguez
There are no upcoming events at this time. Check back soon!