Skip to main content
In Memoriam – Glyn Salton-Cox
The English Department is devastated to announce the death over the New Year of our colleague Glyn Salton-Cox.  To his family, loved ones, and friends here, in his native Britain, and throughout the world, we offer our deepest and most heartfelt condolences.  Glyn was a brilliant scholar, a very popular teacher, and the kindest of colleagues.
The Department of English invites you to a commemoration of our colleague Glyn Salton-Cox on Friday, March 3d, 2023.
We will gather in the Faculty Club's Betty Elings Wells Pavilion at 3:00 pm and then move to the Terrace at 4:00 pm for a reception. Please let us know of any accessibility requests.
2023.02
Noliwe Rooks Guest Lecture
12:30 PM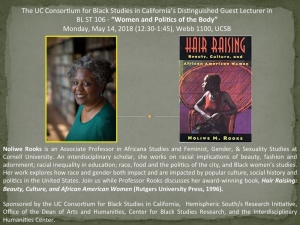 Please join the Hemispheric South/s and the UC Consortium for Black Studies for our Distinguished Guest Lecturer visit with Professor Noliwe Rooks (Associate Professor of Africana Studies and Feminist, Gender, & Sexuality Studies at Cornell University).
Noliwe Rooks is an Associate Professor in Africana Studies and Feminist, Gender, & Sexuality Studies at Cornell University. An interdisciplinary scholar, she works on racial implications of beauty, fashion and adornment; racial inequality in education; race, food and the politics of the city, and Black women's studies. Her work explores how race and gender both impact and are impacted by popular culture, social history and politics in the United States.
Join us while Professor Rooks discusses her award-winning book, Hair Raising: Beauty, Culture, and African American Women (Rutgers University Press, 1996)! She will be guest lecturing in Professor Ingrid Banks' BLST 106 "Women and Politics of the Body" class on Monday, May 14, 12:30-1:45 in Webb 1100.
There are no upcoming events at this time. Check back soon!