Skip to main content
In Memoriam – Glyn Salton-Cox
The English Department is devastated to announce the death over the New Year of our colleague Glyn Salton-Cox.  To his family, loved ones, and friends here, in his native Britain, and throughout the world, we offer our deepest and most heartfelt condolences.  Glyn was a brilliant scholar, a very popular teacher, and the kindest of colleagues.
The Department of English invites you to a commemoration of our colleague Glyn Salton-Cox on Friday, March 3d, 2023.
We will gather in the Faculty Club's Betty Elings Wells Pavilion at 3:00 pm and then move to the Terrace at 4:00 pm for a reception. Please let us know of any accessibility requests.
2023.02
Arrival of the Printing Press in the Maker Lab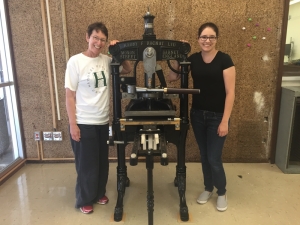 Professor Paddy Fumerton and Kristy McCants, Assistant Director of EBBA, celebrate the arrival and installation of a mid-19th century Albion pull-press for the new UCSB Maker Lab on Friday, August 25th. The Maker Lab is part of a larger initiative being launched by Humanities and Fine Arts Dean John Majewski, called the Digital Arts and Humanities Commons, to showcase and experiment with the full history of printing from the original-style pull press, to digital printing, to 3-D printing. The pull-press was brought to UCSB under the direction of Professor Fumerton, in coordination with Mayra Magaña (Financial Manager of SASC), and the EBBA grads, especially Kristy McCants. The Digital Arts and Humanities Commons will be directed by Assistant Professor Jeremy Douglass. An official ribbon cutting ceremony is planned for late September.