Skip to main content
In Memoriam – Glyn Salton-Cox
The English Department is devastated to announce the death over the New Year of our colleague Glyn Salton-Cox.  To his family, loved ones, and friends here, in his native Britain, and throughout the world, we offer our deepest and most heartfelt condolences.  Glyn was a brilliant scholar, a very popular teacher, and the kindest of colleagues.
The Department of English invites you to a commemoration of our colleague Glyn Salton-Cox on Friday, March 3d, 2023.
We will gather in the Faculty Club's Betty Elings Wells Pavilion at 3:00 pm and then move to the Terrace at 4:00 pm for a reception. Please let us know of any accessibility requests.
2023.02
Approaches to Teaching Kingston's The Woman Warrior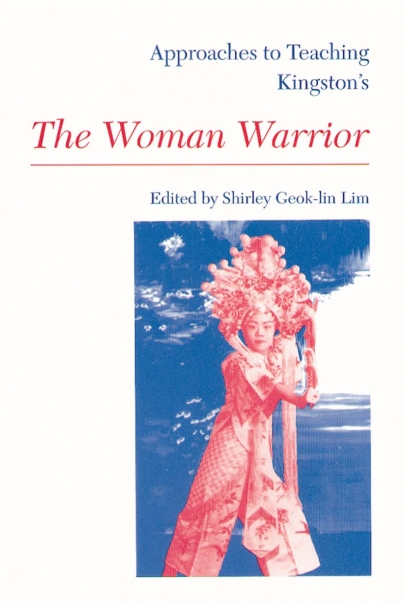 Teaching The Woman Warrior can be a challenging project for instructors who are unfamiliar with the work's cultural and historical traditions. As the volume editor, Shirley Geok-lin Lim, explains in her preface, one of the goals of Approaches to Teaching Kingston's The Woman Warrior is "to introduce teachers and students to the larger body of Asian American and ethnic literature [and] to inform them of the immigrant and ethnic traditions that Kingston's work comes from and contributes to."
This Approaches volume, like others in the series, is divided into two parts. Part 1, "Materials," surveys resources for classroom instruction (such as anthologies, background materials, and cultural studies), presents bibliographic and biographical information, and describes other works by Maxine Hong Kingston. In part 2, "Approaches," seventeen essays discuss The Woman Warrior in cultural, historical, pedagogical, and critical contexts and suggest ways to include the work in courses on women's studies, American literature, ethnic literature, history, and composition. The volume features a personal statement by Kingston on the reception of The Woman Warrior and on its relation to her other works.
Purchase
Citation Information
City of Publication:

New York, NY

Publisher:

Modern Language Association

Publication Date:

1991