Skip to main content
In Memoriam – Glyn Salton-Cox
The English Department is devastated to announce the death over the New Year of our colleague Glyn Salton-Cox.  To his family, loved ones, and friends here, in his native Britain, and throughout the world, we offer our deepest and most heartfelt condolences.  Glyn was a brilliant scholar, a very popular teacher, and the kindest of colleagues.
The Department of English invites you to a commemoration of our colleague Glyn Salton-Cox on Friday, March 3d, 2023.
We will gather in the Faculty Club's Betty Elings Wells Pavilion at 3:00 pm and then move to the Terrace at 4:00 pm for a reception. Please let us know of any accessibility requests.
2023.02
Charlie Chan
The Untold Story of the Honorable Detective and his Rendezvous with American History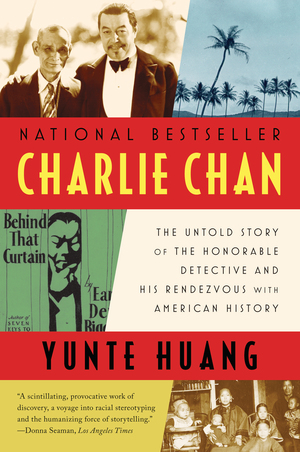 Charlie Chan promises to be a landmark work in twentieth-century American racial history. Chronicling the fraught narrative of one of Hollywood's most enduring cinematic detectives, English scholar Yunte Huang uncovers the untold story of the real "Charlie Chan," a bullwhip-wielding, five-foot Chinese-American detective whose raids on opium dens and gambling parlors transformed him into a Hawaiian legend. Huang, in fact, has created a historic drama where none was known to exist, brilliantly juxtaposing Chang Apana's personal story against a larger backdrop of territorial Hawaii, torn apart by virulent racism. As Huang demonstrates, Apana's bravado and heroism inspired not only E. D. Biggers, a Harvard graduate turned celebrity mystery sleuth, to write six best-selling Charlie Chan novels, but Hollywood to manufacture over forty internationally popular Chan movies starring a wisecracking, grammatically challenged detective with a knack for turning Oriental wisdom into singsong Chinatown blues. Examining hundreds of biographical, literary, and cinematic sources, both in English and in his native Chinese, Huang has created with Charlie Chan a literary tour-de-force that places "the honorable detective" on a larger stage, in the process presenting Asian-American history in a way it has never been told before.
Purchase
Citation Information
Full Title:

Charlie Chan: The Untold Story of the Honorable Detective and his Rendezvous with American History

City of Publication:

New York

Publisher:

W. W. Norton & Company

Publication Date:

2009