Skip to main content
In Memoriam – Glyn Salton-Cox
The English Department is devastated to announce the death over the New Year of our colleague Glyn Salton-Cox.  To his family, loved ones, and friends here, in his native Britain, and throughout the world, we offer our deepest and most heartfelt condolences.  Glyn was a brilliant scholar, a very popular teacher, and the kindest of colleagues.
The Department of English invites you to a commemoration of our colleague Glyn Salton-Cox on Friday, March 3d, 2023.
We will gather in the Faculty Club's Betty Elings Wells Pavilion at 3:00 pm and then move to the Terrace at 4:00 pm for a reception. Please let us know of any accessibility requests.
2023.02
Hope at Sea
Possible Ecologies in Oceanic Literature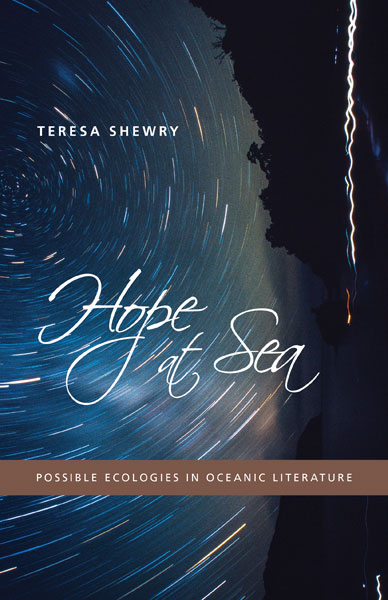 As far back as Thomas More's Utopia and Francis Bacon's New Atlantis, the Pacific Ocean has inspired literary creations of promising worlds. Hope at Sea asks how literary writers have more recently conceived the future of ocean living. In doing so, it provides a new perspective on art and imagination in the face of enormous environmental change.
Drawing together ecocriticism, theories of hope, and literary analysis, this book explores how literary writers evoke hope in engaging with environmental upheavals that are reshaping life in the Pacific Ocean. Teresa Shewry considers contemporary poetry, short stories, novels, art, and journalistic pieces from Australia, New Zealand, Hawai'i, and other ocean sites, examining their imaginative accounts of present life and future living in places where humans coexist with environmental loss: rivers that no longer reach the sea, dwindling populations of ocean life, the effects of nuclear weapons testing, and more. These works are connected by their views of a future that includes hope.
Until now, hope has never been theorized in a direct, sustained way in ecocriticism. Hope at Sea makes an argument for hope as a lens for creative and critical confrontation with environmental disruptions and the resulting sense of loss. It also reflects on the critical approaches that hope as an analytic category opens up for the study of environmental literature.
With hope as a critical perspective, Shewry develops a method for reading environmental literature: literary writers create new ways to apprehend existing environmental realities and craft stories about seas, forests, cities, and rivers that could be—not as literal plans but as ways of imagining promising lives in the present world and in the world to come.
Purchase
Citation Information
Full Title:

Hope at Sea: Possible Ecologies in Oceanic Literature

City of Publication:

Minneapolis

Publisher:

University of Minnesota Press

Publication Date:

2015