Skip to main content
In Memoriam – Glyn Salton-Cox
The English Department is devastated to announce the death over the New Year of our colleague Glyn Salton-Cox.  To his family, loved ones, and friends here, in his native Britain, and throughout the world, we offer our deepest and most heartfelt condolences.  Glyn was a brilliant scholar, a very popular teacher, and the kindest of colleagues.
The Department of English invites you to a commemoration of our colleague Glyn Salton-Cox on Friday, March 3d, 2023.
We will gather in the Faculty Club's Betty Elings Wells Pavilion at 3:00 pm and then move to the Terrace at 4:00 pm for a reception. Please let us know of any accessibility requests.
2023.02
The Surprising Effects of Sympathy
Marivaux, Diderot, Rousseau, and Mary Shelley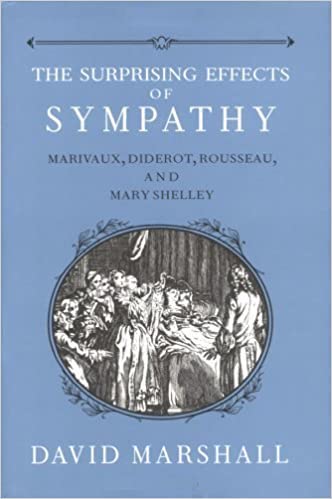 Through readings of works by Marivaux, Diderot, Rousseau, and Mary Shelley, David Marshall provides a new interpretation of the eighteenth-century preoccupation with theatricality and sympathy. Sympathy is seen not as an instance of sensibility or natural benevolence but rather as an aesthetic and epistemological problem that must be understood in relation to the problem of theatricality.
Placing novels in the context of eighteenth-century writing about theater, fiction, and painting, Marshall argues that an unusual variety of authors and texts were concerned with the possibility of entering into someone else's thoughts and feelings. He shows how key eighteenth-century works reflect on the problem of how to move, touch, and secure the sympathy of readers and beholders in the realm of both "art" and "life." Marshall discusses the demands placed upon novels to achieve certain effects, the ambivalence of writers and readers about those effects, and the ways in which these texts can be read as philosophical meditations on the differences and analogies between the experiences of reading a novel, watching a play, beholding a painting, and witnessing the spectacle of someone suffering. The Surprising Effects of Sympathy traces the interaction of sympathy and theater and the artistic and philosophical problems that these terms represent in dialogues about aesthetics, moral philosophy, epistemology, psychology, autobiography, the novel, and society.
Purchase
Citation Information
City of Publication:

Chicago, IL

Publisher:

University of Chicago Press

Publication Date:

1987