Skip to main content
In Memoriam – Glyn Salton-Cox
The English Department is devastated to announce the death over the New Year of our colleague Glyn Salton-Cox.  To his family, loved ones, and friends here, in his native Britain, and throughout the world, we offer our deepest and most heartfelt condolences.  Glyn was a brilliant scholar, a very popular teacher, and the kindest of colleagues.
The Department of English invites you to a commemoration of our colleague Glyn Salton-Cox on Friday, March 3d, 2023.
We will gather in the Faculty Club's Betty Elings Wells Pavilion at 3:00 pm and then move to the Terrace at 4:00 pm for a reception. Please let us know of any accessibility requests.
2023.02
Brinda Bose Talk
"Looking at the Sky with Bullet-Holes Eyes: A Frame for Indian Avant-garde Poetry"
3:00 PM - 5:00 PM
South Hall 2623 (Sankey Room)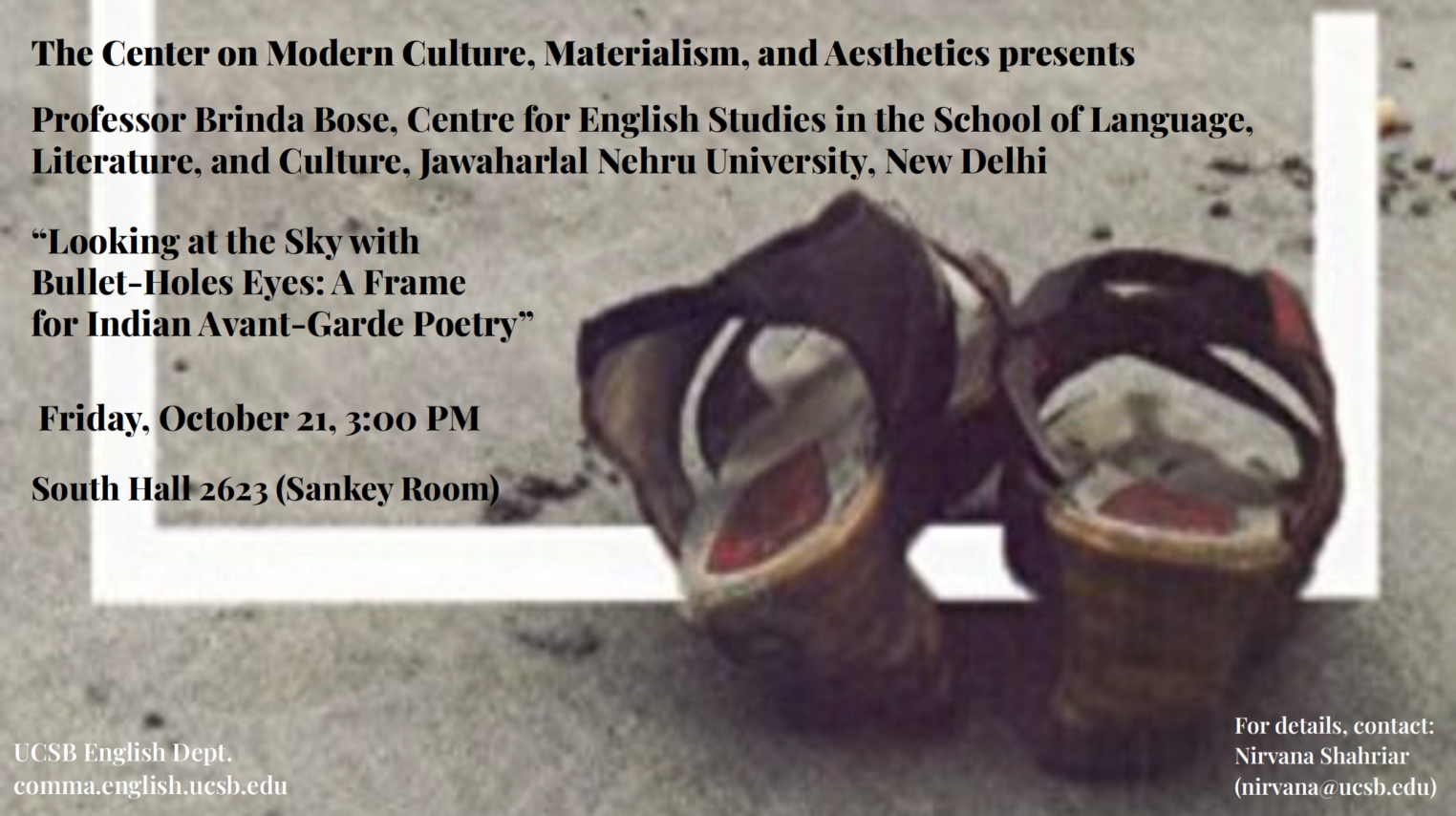 We invite you to a talk by Professor Brinda Bose, "Looking at the Sky with Bullet-Holes Eyes: A Frame for Indian Avant-garde Poetry."
Reading a selection from two twentieth-century Indian poets, writing in Bengali and in English, Brinda Brose will theorize the texture of an aesthetic and poetics in, and as, minor literature. The Avant-gardes in India, marked by delirium and dishevelment, but also by a declamatory spirit of the manifesto for a fresh future of the word, diverge as much as they converge in the radicalism they might espouse for poetry by the materiality of simply 'being'. These poems can be read as a set of intransigent, provisional words causing discomfort, and it is from the cracks and chasms in their language that an avant-garde method of reading may emerge, embracing derangement, the local, and the fabular at once, in difference and in resonances.
Brinda Bose teaches at the Center for English Studies in the School of Language, Literature, and Culture Studies at the Jawaharlal Nehru University in New Delhi. Her recent publications include an edited collection, Humanities, Provocateur: Towards a Contemporary Political Aesthetics (2021), and her monograph The Audacity of Pleasure: Sexualities, Literature, and Cinema in India (2018). She is currently editing a two-volumes collection on Indian Avant-garde aesthetics for Routledge. She is a Visiting Scholar at Boston University this Fall, beginning work on a larger project mapping terrene and temporal avant-garde traffics, Slouching Towards an Aesthetics of Failure.
Research Center Affiliations
There are no upcoming events at this time. Check back soon!