Skip to main content
In Memoriam – Glyn Salton-Cox
The English Department is devastated to announce the death over the New Year of our colleague Glyn Salton-Cox.  To his family, loved ones, and friends here, in his native Britain, and throughout the world, we offer our deepest and most heartfelt condolences.  Glyn was a brilliant scholar, a very popular teacher, and the kindest of colleagues.
The Department of English invites you to a commemoration of our colleague Glyn Salton-Cox on Friday, March 3d, 2023.
We will gather in the Faculty Club's Betty Elings Wells Pavilion at 3:00 pm and then move to the Terrace at 4:00 pm for a reception. Please let us know of any accessibility requests.
2023.02
Elizabeth Heckendorn Cook
English Department Chair and Associate Professor of English and Comparative Literature
Fax:

(805) 8934622

Tel:

(805) 893-3478 chair office phone

Email:

ecook@english.ucsb.edu

Mailing Address:

English Department UC Santa Barbara Santa Barbara, CA 93106-3170
Education:
Ph.D., Comparative Literature, Stanford University, 1990
After teaching in Yale University's English Department 1990-1995, I moved to UC Santa Barbara. Among courses I've offered here: "Writing Nature in the 18th Century"; "Performing the Restoration Playhouse"; "Going Postal: Letter-Narratives";  and "Augustan Poetry and the Public Sphere." I'm affiliated with the Early Modern Center and the Literature & Environment initiatives in English, and with UCSB's Environmental Humanities Center.
My research interests include theater studies, letter-narratives, and nature/culture encounters in early modern British literature. In Epistolary Bodies: Gender and Genre in the Eighteenth-Century Republic of Letters (1996), I examined how epistolary novels play with and against print culture (Montesquieu, Richardson, Riccoboni, Crèvecoeur). My recent article on the French artist Sophie Calle reads her "Take Care of Yourself" project (2007) as a remediation of 18th-c. epistolary conventions.
In 2012, I co-edited the collection Invaluable Trees: Cultures of Nature 1660-1830. I'm currently working on a book entitled "Talking Trees: Others and Ethics in Long-Eighteenth-C. British Literature," which considers the history of environmental ethics in writing about trees and forests. Recent articles have focused on avian migration, botany and monstrosity, and the 18th-c. global circulation of flora.
Together with several graduate researchers, I am developing the Early Modern British Theater: Access (EMBTA) project. Please visit our website, which collects resources for teaching theater studies 1500-1800, at embta.english.ucsb.edu.
Research Areas
c. 1500-1800
c. 1800-1945
British Literature
Environment and Ecocriticism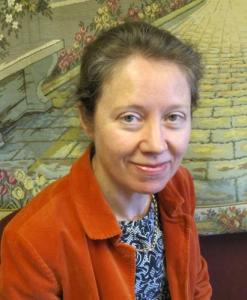 Office:

South Hall 2607A (chair) or South Hall 2503

Office Hours:

Spring 2020 - Please email for appointment.

Fax:

(805) 8934622

Tel:

(805) 893-3478 chair office phone

Email:

ecook@english.ucsb.edu

Mailing Address:

English Department UC Santa Barbara Santa Barbara, CA 93106-3170
Selected Chapters

In 2012 my co-editors and I published Invaluable trees: cultures of nature, 1660 –1830. The co-edited, interdisciplinary volume is the first to deal with the material culture of trees, forests, and wood in the early modern period; it includes essays by scholars in art history, history of science, musicology, agricultural and forest history, and literary scholars working in a number of European languages. My essay in the volume, on Swift's poem "On cutting down the old thorn at Market Hill," argues that Swift employs a rhetorical strategy of distancing and displacement to argue for an ecocentric environmental ethics.
Courses Taught
Quarter

Course #

Title