Skip to main content
In Memoriam – Glyn Salton-Cox
The English Department is devastated to announce the death over the New Year of our colleague Glyn Salton-Cox.  To his family, loved ones, and friends here, in his native Britain, and throughout the world, we offer our deepest and most heartfelt condolences.  Glyn was a brilliant scholar, a very popular teacher, and the kindest of colleagues.
The Department of English invites you to a commemoration of our colleague Glyn Salton-Cox on Friday, March 3d, 2023.
We will gather in the Faculty Club's Betty Elings Wells Pavilion at 3:00 pm and then move to the Terrace at 4:00 pm for a reception. Please let us know of any accessibility requests.
2023.02
Alan Liu
Distinguished Professor
Email:

ayliu@english.ucsb.edu

Mailing Address:

English Department UC Santa Barbara Santa Barbara, CA 93106-3170
Education:
B.A., English Literature, summa cum laude, Yale University
M.A., Creative Writing, Stanford University, 1979
Ph.D., English Literature, Stanford University, 1980
Alan Liu is Distinguished Professor in the English Department at the University of California, Santa Barbara, where he has in the past served as Chair (2008-2012), Graduate Program Director, and Undergraduate Program Director. He is also an affiliated faculty member of UCSB's Center for Information Technology & Society and Media Arts & Technology program. Previously, he was on the faculty of Yale University's English Department and British Studies Program.
His research began in the field of British romantic literature and art. A first book, Wordsworth: The Sense of History (Stanford UP, 1989), explored the relation between the imaginative experiences of literature and history. Theoretical essays in the 1990s then explored cultural criticism, the "new historicism," and postmodernism in contemporary literary studies. In 1994, when he started his Voice of the Shuttle Web site for humanities research, he began to study information culture as a way to close the circuit between the literary or historical imagination and the technological imagination. Books published since then include The Laws of Cool: Knowledge Work and the Culture of Information (U. Chicago Press, 2004), Local Transcendence: Essays on Postmodern Historicism and the Database (U. Chicago Press, 2008), and Friending the Past: The Sense of History in the Digital Age (U. Chicago Press, 2018).
Liu founded the NEH-funded Teaching with Technology project at UC Santa Barbara called Transcriptions: Literature and the Culture of Information and his English Dept's undergraduate specialization on Literature and the Culture of Information. During 2002-2007 he was a member of the Board of Directors of the Electronic Literature Organization (ELO) and chair of the Technology/Software Committee of the ELO's PAD Initiative (Preservation / Archiving / Dissemination of Electronic Literature). Digital initiatives or projects he has led include Transliteracies: Research in the Technological, Social, and Cultural Practices of Online Reading, a University of California multi-campus, collaborative research group (2005-10); RoSE (Research-oriented Social Environment), a software project funded by a NEH Digital Humanities Start-up grant (2011-12); and the 4Humanities.org WhatEvery1Says project, a big-data research initiative focused on public discourse about the humanities funded by the Mellon Foundation (2017-2020). He is co-founder and -leader of the international 4Humanities.org advocacy initiative as well as 4Humanities@UCSB (the 4Humanities local chapter at UCSB).
Research Areas
c. 1800-1945
c. 1945-present
Digital Humanities
Science and Technology Studies
Research Center Affiliations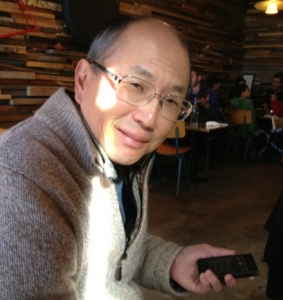 Office:

South Hall, 2521

Office Hours:

Spring 2020 - Please email for appointment.

Email:

ayliu@english.ucsb.edu

Mailing Address:

English Department UC Santa Barbara Santa Barbara, CA 93106-3170
Selected Publications

"Data Moves: Libraries and Data Science Workflows." Libraries and Archives in the Digital Age. Ed. Susan Mizruchi. Cham: Palgrave Macmillan, 2020: 211-219.

"Toward a Diversity Stack: Digital Humanities and Diversity as Technical Problem." PMLA 135.1 (2020): 130-151.

"Teaching 'Literature+': Digital Humanities Hybrid Courses in the Era of MOOCs." Teaching Literature: Text and Dialogue in the English Classroom. Ed. Ben Knights. London: Palgrave Macmillan, 2017: 133-153.

"Hacking the Voice of the Shuttle: The Growth and Death of a Boundary Object." Social Media Archeology and Poetics. Ed. Judy Malloy. Cambridge, MA: MIT Press, 2016: 261-271.

"Is Digital Humanities a Field? — An Answer from the Point of View of Language." Journal of Siberian Federal University: Humanities and Social Sciences 7 (2016): 1546-1552.
Selected Lectures
"Critical Infrastructure Studies — An Overview." King's College, London, 21 June 2021, 5:10-5:50 pm London time.