Skip to main content
In Memoriam – Glyn Salton-Cox
The English Department is devastated to announce the death over the New Year of our colleague Glyn Salton-Cox.  To his family, loved ones, and friends here, in his native Britain, and throughout the world, we offer our deepest and most heartfelt condolences.  Glyn was a brilliant scholar, a very popular teacher, and the kindest of colleagues.
The Department of English invites you to a commemoration of our colleague Glyn Salton-Cox on Friday, March 3d, 2023.
We will gather in the Faculty Club's Betty Elings Wells Pavilion at 3:00 pm and then move to the Terrace at 4:00 pm for a reception. Please let us know of any accessibility requests.
2023.02
Authors in Court
Scenes from the Theater of Copyright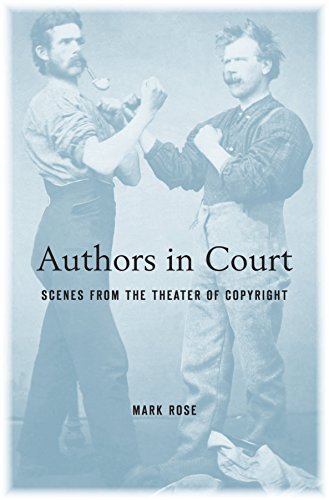 Through a series of vivid case studies, Authors in Court charts the 300-year-long dance between authorship and copyright that has shaped each institution's response to changing social norms of identity, privacy, and celebrity. Authors' self-presentations in court are often inflected by prevailing concepts of propriety and respectability. And judges, for their part, have not been immune to the reputation and standing of the authors who have appeared before them in legal dramas.
Some authors strut their roles on the public stage. For example, Napoleon Sarony―the nineteenth-century photographer whose case established that photographs might be protected as works of art―was fond of marching along Broadway dressed in a red fez and high-top campaign boots, proclaiming his special status as a celebrity. Others, such as the reclusive J. D. Salinger, enacted their dramas precisely by shrinking from attention. Mark Rose's case studies include the flamboyant early modern writer Daniel Defoe; the self-consciously genteel poet Alexander Pope; the nineteenth-century abolitionist Harriet Beecher Stowe; the once-celebrated early twentieth-century dramatist Anne Nichols, author of Abie's Irish Rose; and the provocative contemporary artist Jeff Koons.
These examples suggest not only how social forms such as gender and gentility have influenced the self-presentation of authors in public and in court but also how the personal styles and histories of authors have influenced the development of legal doctrine.
Purchase
Citation Information
City of Publication:

Cambridge, MA

Publisher:

Harvard University Press

Publication Date:

2016