Skip to main content
In Memoriam – Glyn Salton-Cox
The English Department is devastated to announce the death over the New Year of our colleague Glyn Salton-Cox.  To his family, loved ones, and friends here, in his native Britain, and throughout the world, we offer our deepest and most heartfelt condolences.  Glyn was a brilliant scholar, a very popular teacher, and the kindest of colleagues.
The Department of English invites you to a commemoration of our colleague Glyn Salton-Cox on Friday, March 3d, 2023.
We will gather in the Faculty Club's Betty Elings Wells Pavilion at 3:00 pm and then move to the Terrace at 4:00 pm for a reception. Please let us know of any accessibility requests.
2023.02
Darkening Mirrors
Imperial Representation in Depression-Era African American Performance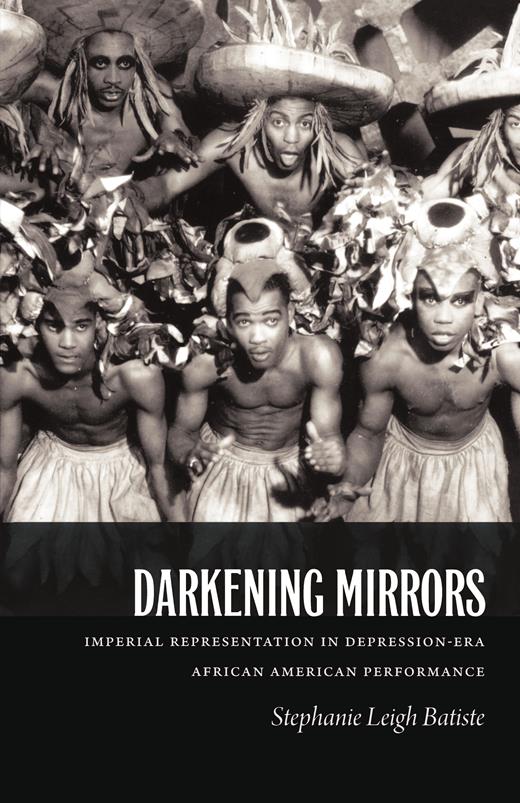 Stephanie Batiste's book Darkening Mirrors: Imperial Representation in Depression-Era African American Performance (Duke University Press) was released in 2012. Through readings of plays, operas, ballets, films, community events,  jokes, and dances the book examines how African Americans participated in U.S. cultural imperialism in Depression-era stage and screen performances.
"Richly textured and finely nuanced, Stephanie Leigh Batiste's Darkening Mirrors: Imperial Representation in Depression-Era African American Performance brings intellectual energy to the well-worked period of the 1930s. She persuades that seemingly nation-focused Depression-era texts reference a wider international world. By representing black performance as complicitous and dissenting in imperialism, Batiste moves her rigorous argument beyond critiquing instances of primitivism or exoticism as diasporic or transnational identifications. She demonstrates how a reinforcement of American imperialism in black performances helped strengthen black claims of national inclusion. Her layered approach to the relation of culture, aesthetics, and politics amply demonstrates the potential for interconnecting performance, postcolonial, and cultural studies to bring fresh insights to familiar literary texts. Batiste has produced a theoretically sophisticated and beautifully written reading of race in United States literary and cultural production." — Prize Committee, Modern Language Association William Sanders Scarborough Prize, 2012.
"In Darkening Mirrors, Stephanie Leigh Batiste rigorously explores black Americans' complicity in imperialist discourse at the height of the Depression era. She makes an important, enlivening contribution to a growing body of scholarship examining some of the more complicated and ambiguous political affiliations of black cultural producers of the nineteenth and early twentieth centuries. This is a tremendously provocative study." — Daphne Brooks, author of Bodies in Dissent: Spectacular Performances of Race and Freedom, 1850–1910.
For more information, and to order the book directly from Duke University Press, click here (link is external).
Purchase
Citation Information
Full Title:

Darkening Mirrors: Imperial Representation in Depression-Era African American Performance

City of Publication:

Durham

Publisher:

Duke University Press Books

Publication Date:

2012

Publisher Website:

Link