Skip to main content
In Memoriam – Glyn Salton-Cox
The English Department is devastated to announce the death over the New Year of our colleague Glyn Salton-Cox.  To his family, loved ones, and friends here, in his native Britain, and throughout the world, we offer our deepest and most heartfelt condolences.  Glyn was a brilliant scholar, a very popular teacher, and the kindest of colleagues.
The Department of English invites you to a commemoration of our colleague Glyn Salton-Cox on Friday, March 3d, 2023.
We will gather in the Faculty Club's Betty Elings Wells Pavilion at 3:00 pm and then move to the Terrace at 4:00 pm for a reception. Please let us know of any accessibility requests.
2023.02
Inventing William of Norwich
Thomas of Monmouth, Antisemitism, and Literary Culture, 1150–1200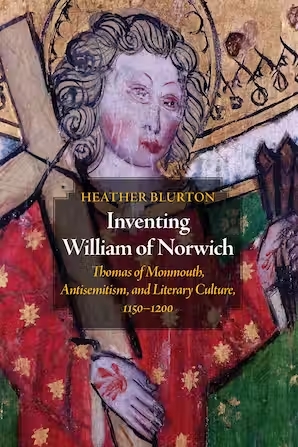 William of Norwich is the name of a young boy purported to have been killed by Jews in or about 1144, thus becoming the victim of the first recorded case of such a ritual murder in Western Europe and a seminal figure in the long history of antisemitism. His story is first told in Thomas of Monmouth's The Life and Miracles of William of Norwich, a work that elaborates the bizarre allegation, invented in twelfth-century England, that Jews kidnapped Christian children and murdered them in memory and mockery of the crucifixion of Christ.
In Inventing William of Norwich Heather Blurton resituates Thomas's account by offering the first full analysis of it as a specifically literary work. The second half of the twelfth century was a time of great literary innovation encompassing an efflorescence of saints' lives and historiography, as well as the emergence of vernacular romance, Blurton observes. She examines The Life and Miracles within the framework of these new textual developments and alongside innovations in liturgical and devotional practices to argue that the origin of the ritual murder accusation is imbricated as much in literary culture as it is in the realities of Christian-Jewish relations or the emergence of racially based discourses of antisemitism. Resisting the urge to interpret this first narrative of the blood libel with the hindsight knowledge of later developments, she considers only the period from about 1150-1200. In so doing, Blurton redirects critical attention away from the social and economic history of the ritual murder accusation to the textual genres and tastes that shaped its forms and themes and provided its immediate context of reception. Thomas of Monmouth's narrative in particular, and the ritual murder accusation more generally, were strongly shaped by literary convention.
Citation Information
Full Title:

Inventing William of Norwich: Thomas of Monmouth, Antisemitism, and Literary Culture, 1150–1200

Series:

The Middle Ages Series

Publisher:

University of Pennsylvania Press

Publication Date:

2022

Publisher Website:

Link