Skip to main content
In Memoriam – Glyn Salton-Cox
The English Department is devastated to announce the death over the New Year of our colleague Glyn Salton-Cox.  To his family, loved ones, and friends here, in his native Britain, and throughout the world, we offer our deepest and most heartfelt condolences.  Glyn was a brilliant scholar, a very popular teacher, and the kindest of colleagues.
The Department of English invites you to a commemoration of our colleague Glyn Salton-Cox on Friday, March 3d, 2023.
We will gather in the Faculty Club's Betty Elings Wells Pavilion at 3:00 pm and then move to the Terrace at 4:00 pm for a reception. Please let us know of any accessibility requests.
2023.02
La Pinta
Chicana/o History, Culture, and Politics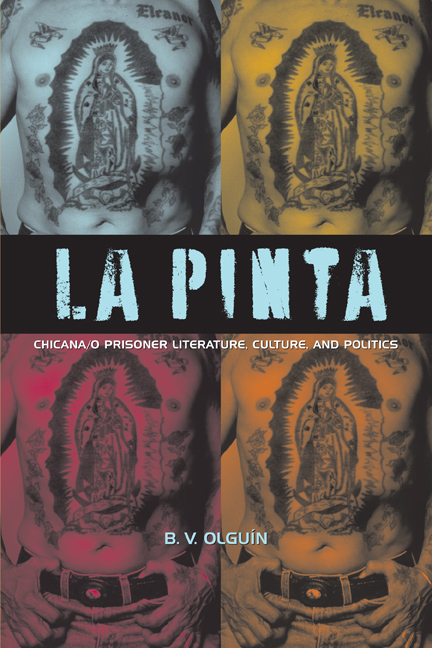 In this groundbreaking study based on archival research about Chicana and Chicano prisoners – known as Pintas and Pintos – as well as fresh interpretations of works by renowned Pinta and Pinto authors and activists, B. V. Olguín provides crucial insights into the central roles that incarceration and the incarcerated have played in the evolution of Chicana/o history, cultural paradigms, and oppositional political praxis.
This is the first text on prisoners in general, and Chicana/o and Latina/o prisoners in particular, that provides a range of case studies from the nineteenth century to the present. Olguín places multiple approaches in dialogue through the pairing of representational figures in the history of Chicana/o incarceration with specific themes and topics. Case studies on the first nineteenth-century Chicana prisoner in San Quentin State Prison, Modesta Avila; renowned late-twentieth-century Chicano poets Raúl Salinas, Ricardo Sánchez, and Jimmy Santiago Baca; lesser-known Chicana pinta and author Judy Lucero; and infamous Chicano drug baron and social bandit Fred Gómez Carrasco are aligned with themes from popular culture such as prisoner tattoo art and handkerchief art, Hollywood Chicana/o gangxploitation and the prisoner film American Me, and prisoner education projects.
Olguín provides a refreshing critical interrogation of Chicana/o subaltern agency, which too often is celebrated as unambiguously resistant and oppositional. As such, this study challenges long-held presumptions about Chicana/o cultures of resistance and proposes important explorations of the complex and contradictory relationship between Chicana/o agency and ideology.
Purchase
Citation Information
City of Publication:

Austin

Publisher:

University of Texas Press

Publication Date:

2010