Skip to main content
In Memoriam – Glyn Salton-Cox
The English Department is devastated to announce the death over the New Year of our colleague Glyn Salton-Cox.  To his family, loved ones, and friends here, in his native Britain, and throughout the world, we offer our deepest and most heartfelt condolences.  Glyn was a brilliant scholar, a very popular teacher, and the kindest of colleagues.
The Department of English invites you to a commemoration of our colleague Glyn Salton-Cox on Friday, March 3d, 2023.
We will gather in the Faculty Club's Betty Elings Wells Pavilion at 3:00 pm and then move to the Terrace at 4:00 pm for a reception. Please let us know of any accessibility requests.
2023.02
The Virus Touch
Theorizing Epidemic Media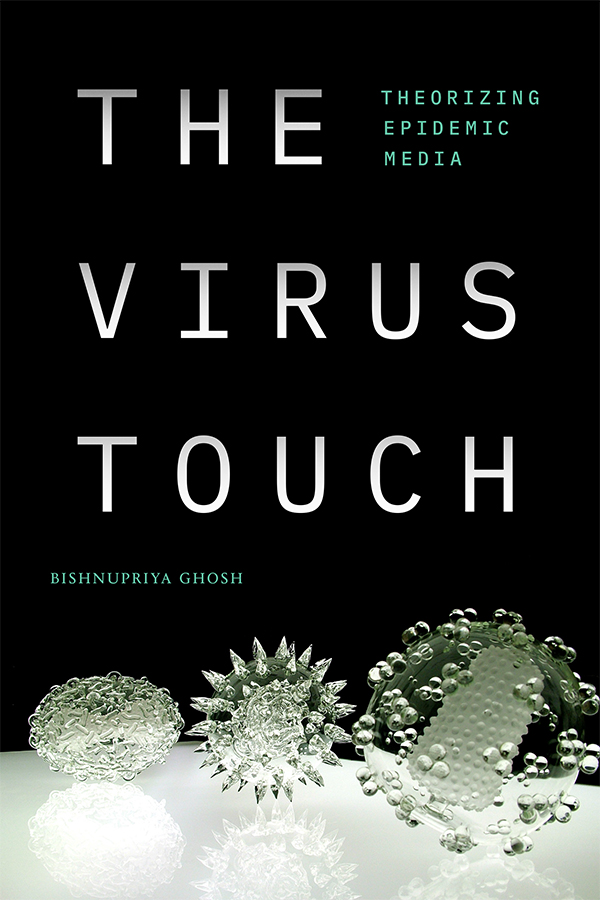 In The Virus Touch Bishnupriya Ghosh argues that media are central to understanding emergent relations between viruses, humans, and nonhuman life. Writing in the shadow of the HIV/AIDS and COVID-19 global pandemics, Ghosh theorizes "epidemic media" to show how epidemics are mediated in images, numbers, and movements through the processes of reading test results and tracking infection and mortality rates. Scientific, artistic, and activist epidemic media that make multispecies relations sensible and manageable eschew anthropocentric survival strategies and instead recast global public health crises as biological, social, and ecological catastrophes, pushing us toward a multispecies politics of health. Ghosh trains her analytic gaze on these mediations as expressed in the collection and analysis of blood samples as a form of viral media; the geospatialization of data that track viral hosts like wild primates; and the use of multisensory images to trace fluctuations in viral mutations. Studying how epidemic media inscribe, store, and transmit multispecies relations attunes us to the anthropogenic drivers of pathogenicity like deforestation or illegal wildlife trading and the vulnerabilities accruing from diseases that arise from socioeconomic inequities and biopolitical neglect.
Citation Information
Full Title:

The Virus Touch: Theorizing Epidemic Media

Publisher:

Duke University Press

Publication Date:

2023

Publisher Website:

Link