Skip to main content
In Memoriam – Glyn Salton-Cox
The English Department is devastated to announce the death over the New Year of our colleague Glyn Salton-Cox.  To his family, loved ones, and friends here, in his native Britain, and throughout the world, we offer our deepest and most heartfelt condolences.  Glyn was a brilliant scholar, a very popular teacher, and the kindest of colleagues.
The Department of English invites you to a commemoration of our colleague Glyn Salton-Cox on Friday, March 3d, 2023.
We will gather in the Faculty Club's Betty Elings Wells Pavilion at 3:00 pm and then move to the Terrace at 4:00 pm for a reception. Please let us know of any accessibility requests.
2023.02
Bishnupriya Ghosh
Professor of English and Global Studies
Fax:

(805) 893-4622

Email:

bghosh@english.ucsb.edu

Mailing Address:

English Department UC Santa Barbara Santa Barbara, CA 93106-3170
Education:
Presidency College, India (B.A.)
Wellesley College, United States (B.A.)
Northwestern University (M.A.-PhD.)
With a doctorate from Northwestern University, Bishnupriya Ghosh is Professor of English at the University of California, Santa Barbara, where she teaches environmental media and global postcolonial studies. Much of her early scholarly work interrogated the relations between the global and the postcolonial; area studies and transnational cultural studies; popular, mass, and elite cultures. While publishing essays on literary, cinematic, and visual culture in several collections and journals such as boundary 2, Journal of Postcolonial Studies, Public Culture and Screen, in her first two books, Ghosh focused on contemporary elite and popular cultures of globalization. When Borne Across: Literary Cosmopolitics in the Contemporary Indian Novel (Rutgers UP, 2004) addressed the dialectical relations between emerging global markets and literatures reflexively marked as "postcolonial," and Global Icons: Apertures to the Popular (Duke UP, 2011) turned to visual popular culture as it constitutes the global.
Apart from works that address global mediascapes, in the last decade, Ghosh turned to risk distributions and their relationship to media. She has written several essays on the subject and has co-edited collection (with Bhaskar Sarkar), The Routledge Companion to Media and Risk (2020). She is completing a single-authored work, The Virus Touch: Theorizing Epidemic Media which considers how mediatic processes detect and compose epidemics as crises events.
Research Areas
c. 1945-present
Environment and Ecocriticism
Global Literatures
Media Studies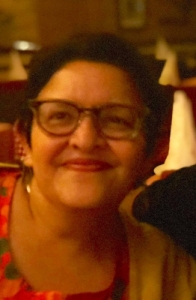 Office:

South Hall 2520

Office Hours:

Spring 2020 - Please email for appointment.

Fax:

(805) 893-4622

Email:

bghosh@english.ucsb.edu

Mailing Address:

English Department UC Santa Barbara Santa Barbara, CA 93106-3170
Selected Publications

"Big Bad Social Media: Distributed Affects and Popular Politics." Culture Machine, vol. 19, 2020. Journal article.

"Governing by Wrong." World Picture, vol. 6, Winter 2011. Journal article.

Download PDF (606.33 KB)

"Once There Was Cosmopolitanism: Enchanted Pasts as Global History in the Contemporary Novel." Ariel, vol. 42, no. 1, 2011, pp. 11–33. Journal article.

"Looking through Coca-Cola: Global Icons and the Popular." Public Culture, vol. 22, no. 2, Summer 2010, pp. 333–68. Journal article.

"The Cost of Living: Reflections of Global Health Crises." AIDS and the Distribution of Crises, edited by Jih-Feh Cheng et al., Duke University Press, 2020. Book chapter.

Download PDF (409.03 KB)

"A Sensible Politics: Image Operations of Europe's Refugee Crisis." Moving Images: Mediating Migration as Crisis, edited by Krista Lymes et al., Transcript, 2020. Book chapter.

"Water Media in 21stC South Asia." Water Histories of South Asia: The Materiality of Liquescence, edited by Sugata Ray and Venugopal Maddipati, Routledge India, 2021. Book chapter.

"What time is there?" Jump Cut: A Review of Contemporary Media, no. 55, Fall 2013. Journal article.

Awards, Initiatives, Grants, and Positions

2016-2017 President's Faculty Fellowship (UCHRI)

2012-13 Society for the Humanities Fellowship (Cornell University)

2012-17 MLA Executive Council (Postcolonial Studies Division), Delegate Assembly

2011-12 Critical Issues in America: Speculative Futures (programming award)

2010 IHC Research Grant

2009 Co-convenor, UC Humanities Center Residency

2008 Outstanding Graduate Faculty Mentor, Department of English, UCSB

Selected Lectures

Courses Taught

Quarter

Course #

Title